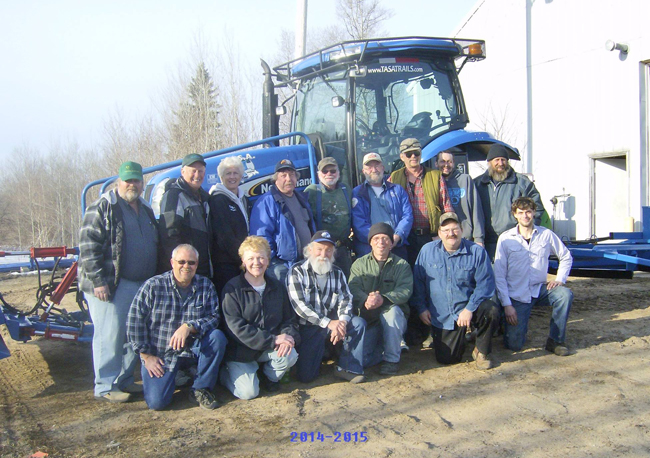 Tahquamenon Area Snowmobile Association (TASA)
Upper Peninsula Snowmobiling History
THE HISTORY OF TASA & HIGHLIGHTS OVER THE YEARS
In 1987 a group of 7-8 local business men and citizens got together to discuss the prospect of forming a snowmobile club with the idea of opening up Newberry to snowmobiling. Up to that point in time, it had been against the law to ride snowmobiles within the village limits—illegal for 14 years. Snowmobiling had become source of increased revenue generating business in the winter months.
After several meetings it was unanimously agreed that an association would be created with the following criteria in mind:
Open Newberry Village to snowmobilers
Stress snowmobile safety
Establish a trail system into and around Newberry connecting with the U.P. trail system.
In order to establish routes, there were several more meetings involving the DNR. Legalities and requirements such as obtaining leases, what is considered trespassing, etc was discussed.

At the time TASA became organized, there was a trail from Dollarville northward and a trail on the south side of Newberry going to Trout Lake to the east, and to McMillan and Curtis to the west. After TASA was organized, permission was granted to close the Dollarville trail and open the 3 Mile grade. This would connect the trail on the Charcoal Grade and have greater access to Newberry.

The Village Council approved routes into and through Newberry. This action opened up access to motels, restaurants and gas stations.

In the summer of 1987, the trail from Newberry was established which involved removal of trees, brushing and bulldozing the trail in. This undertaking involved a lot of effort on weekends by the members.

During the latter part of 1987, it was decided that TASA would hold fund raising events such as poker runs, snow carnivals, breakfast fund raisers, hot dog safari and provide promotional packets to the snowmobilers.

TASA purchased its first groomer in 1989. It was a Trac-Truck which was used through 1989-1991. This particular groomer proved to be ineffective for snow depths in the U.P. The purchase price was $32,000 of which the EDC donated half. Jim Buckingham collected another $19,000 from area businesses.

When TASA started grooming, it was responsible to groom 3 Mile Trail North to the High Bridge on CR 407 and Charcoal Grade to the Upper Tahquamenon Falls. This was a combined distance of about 60 miles. The State said that in order to qualify for payment TASA had to groom two times per week, which figured out to $506 per week.

Because the Trac-Truck proved to be ineffective, TASA then purchased its first LMC in 1991. Since then TASA had 3 LMC's and eventually converted to 3 LAM Trac's. The Trac-Truck was sold to Tri County Snow Association for $25,000. The purchase price of the first LMC groomer in 1991 was $76,145.52.

In 1991, discussion was started about a trail from Newberry to Hulbert. A winter carnival was slated and a "Blessing of the Sleds" as well as holding Special Winter Olympics was discussed.

In July, 1991, TASA purchased a 1980 250 International tractor with brush hog for $8700 plus tax.

September 1991, TASA purchased the property that the TASA barn sits on for $3500 A bid from Gordon Larson for $14,749.36 had been submitted to the TASA board. The concrete floor bid from Mike Morrison was for $3472. Insulation was between $1300 to $1500.

In late 1992, TASA purchased the Bombadier groomer from the DNR for $4000. In early 1993, it was decided to try to sell the Bombadier for $6200. In 1993, Newberry Area Tourism Association made its first donation of $3000. More fund raisers were discussed, with Skip Brockman suggesting a pastie sale.

By May of 1994 TASA purchased a furnace for the TASA barn for $1875.

In June of 1994, it was decided that TASA would have a booth at the Luce County fair to sell TASA membership.

In August 1994, TASA held its first raffle. The raffle was for a 440 JAG worth $3100. There would be 2000 tickets printed and sold at $5.00 each. The drawing for the raffle would be held in conjunction of the "grand opening" of the new TASA barn. The very first TASA meeting held at the new barn was on 11/21/94. The net proceeds of the raffle were $656. There were only 826 tickets sold.

In 1995, TASA had a booth at the fair again to promote TASA and sell memberships.

The first TASA board and groomer party was held August 5, 1995 at Camp Snort.

In October 1995, TASA decided to raffle off a 1996 Arctic Cat 440, a 1996 Polaris 440 and print 5000 tickets which would be sold a $5.00 each. There would be another open house to coincide with raffle drawing. This time the raffle netted $3680.00.

(FROM THIS POINT THE MINUTES FROM 9/17/96 TO 1998 ARE PARTIALLY MISSING.)

In 1996, discussion of adding a "lean-to" on to the existing barn so TASA would have an area to store signs. Also needed an estimate on a ventilation system for groomer exhaust. Talk of adding a trail behind Zellar's Restaurant at this time.

In February 1998, TASA had groomed 3085 miles to date for that season.

March 1998 TASA was asked by the DNR to take over the northern portion of the south trail system. This was tabled.

In late 1998 the DNR leased their Tucker for TASA to use on the south trail in exchange for the club purchasing parts and the DNR would provide mechanic.

In 1999 the DNR assigned TASA the South Trail. This trail is from Newberry to Trout Lake and to Cut River is approximately 65 miles (one way).

October 5, 1999, TASA made $4200 on the raffle.

The 1999 fall purchase of propane was at .85 cents per gallon.

Fall of 1999, the DNR staging area at the end of 3 mile would be completed by the end of the following summer.

January 4th, 2000, the board decided to make Bob Brown the official groomer operator trainer. Any new hire HAS to go with Bob 4 times in order to be considered a groomer operator. The board also decided to form two committees; one to write employee policy and the other to do the hiring and firing.

February 1, 2000, The Groomer Committee put Bob Brown in charge of groomers and groomer retrieval.

December 2000, the wrecked sled display at staging area by RR tracks is up.

January 20, 2001, TASA ordered a Lam Track and kept the LMC.

March 20, 2001, Judy Brown will be acting TASA treasurer until Annual Election.

April 24, 21001, it was noted that miles TASA groomed for the past two seasons are as follows: 1999-2000 12,000 miles groomed. 2000-2001 18,000 miles groomed.

November 6, 2001, TASA had discussed a possible re-route of the "town trail" to run from Roberts Corners to Dump Road. The County Commissioners said NO.

December 4, 2001, Cathy Clementz, Northcountry Campground & Cabins, informed TASA about the trail report at www.michiweb.com that she was currently doing for the area. Everyone agreed this was a big plus.

In 2001-2002, the 3 mile trail had been re-routed in order to omit the trail through the swamp between Wolf Inn and Pine Stump. At the time of that re-route, the trail was then 49 miles to the High Bridge. Since 2002, there have been a couple of additional re-routes of the North trail. Currently, #9 North is approximately 50 miles in length. #45, the Falls trail, is approximately 30 miles.

January 8, 2002, TASA and the Chippewa Snowchasers are still trying to get a trail from Newberry to Hulbert. Sometime between December 2001 and January 2002, Cathy Clementz became acting Secretary for TASA.